Welcome to Daniel Pap Art!
Influenced by the 20th century European art scene, Daniel Pap has created a very unique and distinct style, fusing expressionism, surrealism, cubism, art-deco and traditional Japanese designs. Please take your time to look through a selection of his original artworks and limited edition fine art prints - all of which are available to purchase. For commissions, please contact Daniel to discuss your requirements.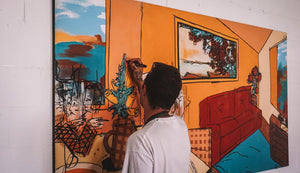 Meet The Artist
Based on the Gold Coast, Australia, emerging artist Daniel Pap creates bold and colourful paintings with a very unique style. His abstract art has been exhibited worldwide and featured in local magazines.
Learn more